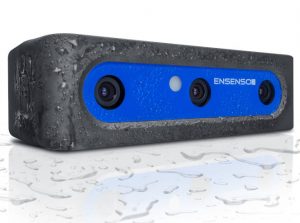 The company IDS has announced that it is extending its 3D camera series with a set of compact and robust devices that have been designed specifically for robotics as well as automated series production. The Ensenso N40 and N45 are both IP65/67 protected for use in harsher environments paired with fiber-reinforced plastic cases, allowing for them to be the lightest stereo vision cameras equipped with Gigabit Ethernet in the vast IDS product range. The products are also designed with rounded corners that lower injury risk.
With sensing that comes through a pair of monochrome 1,280 x 1,024 global shutter CMOS sensors, it must be noted that the standard versions have an 850nm infrared pattern projector whereas other models are available with 465nm blue projection.
As a result of this, the position of the patterned mask in the projector is shifted by a piezoelectric actuator that results in the varying textures that appear on the objects surface. According to IDS, "Acquiring multiple image pairs with different textures of the same object scene produce a lot more image points," where they elaborate further to say that "The resolution increases. The matching algorithm calculates significantly improved disparity maps by using all captured image pairs."
Furthermore, screw-type GPIO connectors are then fitted for trigger and flash, where power-over Ethernet allows for data transfer as well as power supply over long cables. With a working distance of 33cm to 3 m and a max field of view slightly under 4 m, units are 93 x 52 x 60mm. The Ensenso SDK3.0 is also a software design kit that includes stereo matching code.
These products are innovations to pay attention to in the field of electronics and technology, with the capability to be applied towards numerous fields and business across the globe deep into the future of society.
The N series page can be viewed here and FlexView is explained in detail here.